'The Sunday Times' Silver Award Win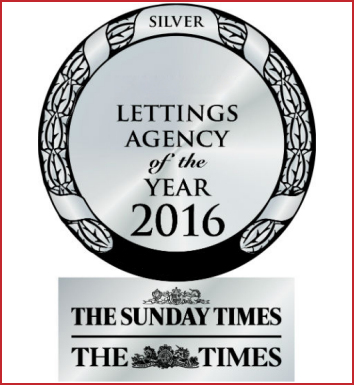 We're delighted to announce we've been recognised among the UK's top lettings agents, having recently been granted a prestigious Sunday Times Letting Agency Award 2016. We were fortunate enough to win the Silver Award for 'Best Single Office Lettings Agent' in the East of England category.
We were among hundreds of leading letting agents from across the UK who attended a glittering ceremony at The Lancaster London Hotel, where the winners of these highly regarded industry awards were revealed. We were presented with our award by rugby and Olympic leadership legend Sir Clive Woodward and renowned journalist, author and newsreader Penny Smith acted as compere throughout the event.
Now in their seventh year as a dedicated competition for the lettings industry, these awards have become widely recognised as the most prestigious and difficult to win titles. With more entrants than ever before, thousands of British lettings and property management offices were represented this year, but only the very best of the best were crowned as winners, including us!
We sailed through a rigorous judging process to emerge as a winner, which not only involved a written application, but an in-depth interview followed by an unannounced visit from a 'mystery shopper'.
The judging process is overseen by The Property Ombudsman Katrine Sporle, and Mark Hayward of the NAEA acts as Arbiter. Having reviewed a vast number of entries, the panel agreed that our 'ethical and honest approach to business' made us a worthy silver winner for the category. Judges were also impressed by our implementation of our new, transparent fee structure which has been a bold innovation for this year. As you already know, our model offers a key point of difference for consumers as fees are varied according to the service as opposed to the capital value, resulting in clarity and fairness.
With special attention being paid to our 'high-quality client interaction' and 'clearly mapped out processes', our Managing Director, Crystal Horwood, was more than delighted, commenting:
"The Sunday Times Letting Agency of the Year Awards are the longest running and most sought after awards in the lettings industry. We work exceptionally hard on behalf of our growing portfolio of landlords and tenants and this accolade proves the high standards we set ourselves.
"As noted by the judging panel, our provision of a transparent, fixed fee pricing structure with no hidden fees or extras, underlines our ethical and honest approach to working with landlords, tenants and the lettings industry as a whole."
As always, should you have any questions or concerns, please contact the Pace team and we will be happy to offer our professional advice.