Local area guide to the Rochford area of Southend on Sea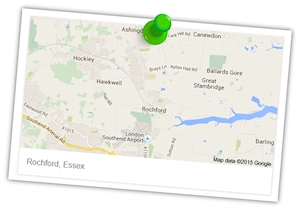 As a Estate Agent in Southend on Sea, new tenants often ask us about local amenities in the Southend on Sea area and further afield. We've put together the following information which we hope will be of use.
General Information and points of interest
Rochford is located to the north of Southend-on-Sea and is officially the main town in the Rochford district of Essex. It is located approximately 43 miles from central London and approximately 21 miles from Essex's county town, Chelmsford.
Rochford town has a chequered but interesting past. This medieval market town has been host to a number of fascinating people and events, ranging from royal visits and public executions to the founding of a religious sect.
Visitors to Rochford will notice the town centre does not have a high street and instead contains one of the few remaining town cross patterns in England, comprising North, South, East and West Streets. A market is held every Tuesday in the main Square and is one of the oldest in existence. It began in 1247 when The Lord of the Manor, Sir Guy de Rocheforte was granted a charter to hold a weekly market.
Throughout its history Rochford has had links with royalty. In particular, Rochford Hall which was built in the 16th century was considered one of the grandest buildings in the country until it was ravaged by fire in 1760. In 1515 Rochford Hall became the property of Sir Thomas Boleyn of Norfolk. His daughter, Anne, was to become the second wife of King Henry VIII who visited the Hall before their marriage in 1533. Today the hall has been restored and is used as the home of Rochford Golf Club.
In fact, recreation needs are fully catered for with 3 golf courses in the wider Rochford district, and sports centres in nearby Rayleigh, Hawkwell and Great Wakering. Miles of open countryside, footpaths, sea wall and woodlands offer a great range of leisure activities. Sailing enthusiasts can find much scope on the Roach and Crouch rivers, and there is a marina at Wallasea Island with a foot passenger ferry across to Burnham-on- Crouch.
Transport
London is easily accessible by train from Rochford. The town has its own railway station which is part of the Southend Victoria to London Liverpool Street route. Journey times are approximately 50 minutes with trains running every 15 minutes and more frequently during the rush hour. Train services are provided by Abellio Greater Anglia and current timetables can be downloaded here
There a number of companies who operate bus routes which run through the Rochford District. Arriva runs a network of bus services between Rochford, Southend and the surrounding areas. The number 7 & 8 routes travel between Shoeburyness and Rayleigh and pass through Rochford square. Click here for information about routes and fares.
There is also a limited stop coach service to and from Stansted Airport and regular services to Southend University Hospital. Additional information can be found here.
We're also lucky to have Southend Airport offering numerous routes within the UK and further afield into Europe. Airlines currently operating from Southend include Aer Lingus, EasyJet, FlyBe and Skyworks. Tour operators include First Choice and Thomson.
Education
Within Rochford, admissions to both primary and secondary schools are managed by Essex County Council. Families with young children choosing to live in Rochford can pick from a wide number of state primary schools and day nurseries within the area, including Rochford Primary and Nursery school, Holt Farm Junior school and Waterman Primary School.
For older children requiring Secondary education, there is The King Edmund School and Greensward Academy. Essex retains a selective education policy and the Southend Boys and Girls Grammar schools are both popular choices with parents. Essex grammar school admissions are managed by the Consortium of Selective Schools in Essex (CSSE), Telephone: 01245 348257. The office is open 9am to 4.30pm Monday to Friday, term time only.
Healthcare
The Southend University Hospital is the main hospital for the area and has an Accident & Emergency Department. The following link will take you to the 'Find Us' page.
For non-emergency care, The NHS website offers a search facility which will return a comprehensive listing of all local GP surgeries and health centres.
However, the main surgeries for the area are:
Refuse and recycling
To find out which day your refuse and recycling will be collected, please visit the Rochford District Council website for full details. There is also a downloadable calendar which details of collections by type and date.
Shopping and entertainment
The town square in Rochford and its nearby streets offer a wide variety of local shops and services. The town has 9 pubs, each one with its own unique and different character. A selection of tearooms and coffee shops are also scattered around the town and are the ideal place to relax for afternoon tea or a sandwich.
For those looking to spend a night or two in Rochford, the town has a number of options including a new 20-room hotel which also includes a restaurant. There are also several excellent guest houses offering bed and breakfast accommodation.