Local area guide to the Hadleigh area, near Southend on Sea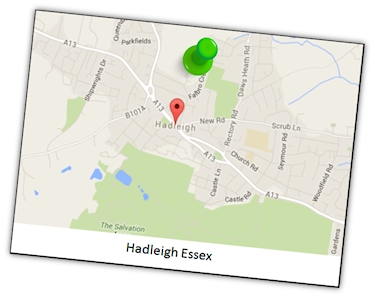 As a Lettings Agency in Southend, our clients often ask us about local amenities in popular local neighbourhoods. Therefore, we've put together the following information which we hope will give you a feel for the popular area of Rayleigh.
General Information and points of interest
Hadleigh is a small town, located to the east of Southend-on-Sea and has a population of around 18, 000 people. It sits within the local government area of Castle Point along with Thundersley, South Benfleet and Canvey island. From Castle Point it is possible to see Canary Wharf to the west, on a clear day.
Like many other market towns in the area, Hadleigh has a rich and vibrant history. Built after 1215 during the reign of Henry III by Hubert de Burgh, Hadleigh castle was surrounded by parkland and had an important economic, as well as defensive role. Hadleigh was significantly expanded and remodeled by Edward III, who turned it into a grander property, designed to defend against potential French attack as well as provide the King with a convenient private residence close to London. Built on a geologically unstable hill of London clay, the castle has often been subject to subsidence; this, combined with the sale of its stonework in the 16th century, has led to it now being ruined. The remains are now preserved by English Heritage and protected under UK law as a Grade I listed building and scheduled monument.
Another point of general interest is the Salvation Army Hadleigh Farm colony founded in 1891 by General Booth and located south of Hadleigh town. The aim of the farm was to help rescue those who were destitute in London and offer food and lodgings in return for a day's work. Today the farm operates an employment training centre for people who have special training needs. Courses at the training centre are reminiscent of the colony's origins and include horticulture, carpentry, catering, office skills and estate management.
Hadleigh Farm was also confirmed in 2008 as the venue for the mountain biking competitions of the cycling programme of the 2012 Olympic Games. Temporary grandstands seating up to 3,000 people were erected and following the Olympics the course was adapted for use by the general public, with a new bike shop and workshop and broader facilities for the farm. A new mountain bike club based at the farm has been founded and the course has been used for events including the British National Mountain Bike Championships.
For nature lovers, Two Tree Island is an outstanding 634-acre nature reserve situated off the Old Leigh coastline with a lagoon at its western tip. A wide variety of birds can be seen, particularly migrating flocks, as well as a overabundance of other wildlife. Two Tree Island is walking distance from Hadleigh Castle, by following the path behind the main tower, heading towards the visible Southend Pier.
Transport
London is easily accessible by train from nearby South Benfleet with routes in to both Fenchurch and Liverpool Street stations. Journey times are approximately 45 minutes with trains running every 15 minutes and more frequently during the rush hour. Train services are provided by C2C and current timetables can be downloaded here…
Hadleigh also has good bus links to both Southend and the surrounding areas, with popular services including Arriva Southend's route 1and 5 services, and First Essex's route number 27 service. Click here for information about routes and fares and here. There is also a limited stop coach service to and from Stansted Airport and regular services to Southend University Hospital.
We're also lucky to have Southend Airport offering numerous routes within the UK and further afield into Europe. Airlines currently operating from Southend include Aer Lingus, EasyJet, FlyBe and Skyworks. Tour operators include First Choice and Thomson.
Education
Within Hadleigh, admissions to both primary and secondary schools are managed by Essex County Council. Families with young children choosing to live in Hadleigh have a good choice of state infant, junior schools and day nurseries within the area, including Hadleigh Infant School and Westwood Academy.
For older children requiring secondary education, there is The King John School, a mixed school with a mathematics and computing specialism. There is also the Deanes School located in nearby Thundersely.
Essex retains a selective education policy and the Southend Boys and Girls Grammar schools are both popular choices with parents. Essex grammar school admissions are managed by the Consortium of Selective Schools in Essex (CSSE), Telephone: 01245 348257. The office is open 9am to 4.30pm Monday to Friday, term time only.
Healthcare
The Southend University Hospital is the main hospital for the area and has an Accident & Emergency Department. The following link will take you to the 'Find Us' page.
For non-emergency care, The NHS website offers a search facility which will return a comprehensive listing of all local GP surgeries and health centres.
However, the main surgery for Hadleigh is The Hollies Surgery which can be reached on 01702 416966. There are also other health centres in nearby in Thundersley and Benfleet.
Refuse and recycling
To find out which day your refuse and recycling will be collected in Hadleigh, please visit the Castlepoint Borough Council website for full details. There is also a downloadable calendar which details of collections by type and date.
Shopping and entertainment
Visitors and residents will find a wide choice of pubs and restaurants in the town as well as a number of tea shops and cafes. The High Street also offers branches of most banks and building societies, a mix of shops including clothing, home improvements, a pharmacy, card and gift shops. However, for a greater choice, there are also two large shopping centres in nearby Southend and a number of retail parks on the outskirts of the town.