The Pace local area guide to Thorpe Bay and the surrounding area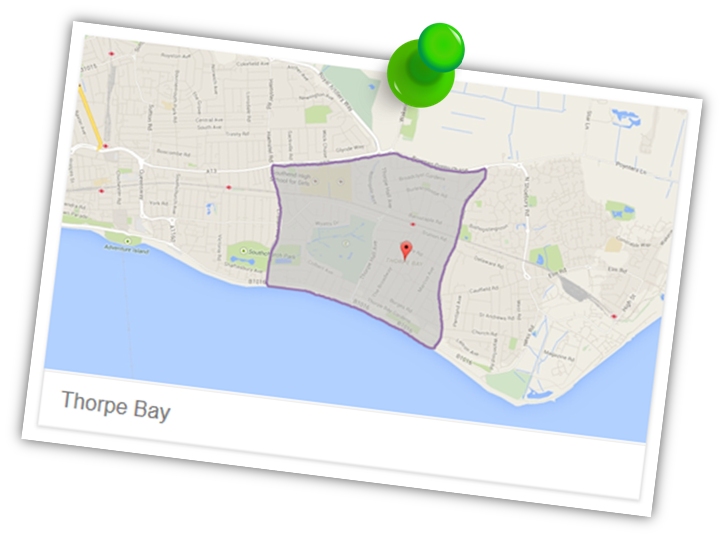 As a Lettings Agency in Southend clients often ask us about local amenities in the popular areas, such as Thorpe Bay. We've put together the following information which we hope will give you a feel for life in the area.
General Information
Thorpe Bay is an affluent area of Southend-on-Sea, situated on the Thames Estuary, 5 miles east of Southend and approximately 45 miles from London. Originally the area was simply known as Thorpe, but was renamed Thorpe Bay after the railway station, which was titled to indicate the seaside location. The area has many large properties and its good transport links appeal to commuters with families looking to live outside London.
As the name might suggest, Thorpe Bay has a beautiful mixed sand and shingle beach which has received a Quality Coast award for excellent beach cleanliness and for safe pedestrian access. There is a cycle path the length of the seafront, a children's paddling pool and a selection of cafes and restaurants nearby, including some with decking leading straight onto the beach. Thorpe Bay is also known for its rows of beautiful beach huts.
The area has numerous leisure facilities, including Thorpe Bay Yacht club, Thorpe Hall Golf Club, a bowls club and Thorpe Bay Lawn tennis club. The Southend Marine Activities Centre (SMAC) offers sailing, windsurfing, jet skiing, kayaking and many other water sports for adults and children.
Transport
Arriva runs a network of bus services that link Thorpe Bay to other towns in the area. For buses travelling between Thorpe Bay and Southend town centre in particular, take the Number 1 route which is the Shoeburyness to Rayleigh route. For additional information about routes and fares visit http://www.arrivabus.co.uk/south-east/services/1—shoeburyness-to-rayleigh/?direction=outbound.
In Essex, First also operates a network of over 70 bus services linking towns and villages across the county. There is also a limited stop coach service to and from Stansted Airport and regular services to Southend University Hospital. Additional information can be found at; http://firstgroup.com/ukbus/essex/
If you prefer train travel, Thorpe Bay has its own station on the London Fenchurch Street to Shoeburyness line. Journey times from Thorpe Bay into London Fenchurch Street are approximately 1 hour. Train services are provided by the National Express Group train operating company c2c and current timetables can be downloaded here; http://www.c2c-online.co.uk/travel-information/timetables/
We're also lucky to have Southend Airport offering numerous routes within the UK and further afield into Europe. Airlines currently operating from Southend include Aer Lingus, EasyJet, FlyBe and Skyworks. Tour operators include First Choice and Thomson.
Education
Bournes Green Infant and Junior schools are located within Thorpe Bay area, as well as Thorpe Bay High School (Futures College). There are also a number of local church schools in the area as well as independent prep and senior schools.
Essex retains a selective education policy and the Southend Boys and Girls Grammar schools are a stone's throw from Thorpe Bay. Essex grammar school admissions are managed by the Consortium of Selective Schools in Essex (CSSE), Telephone: 01245 348257. The office is open 9am to 4.30pm Monday to Friday, term time only.
Healthcare
The Southend University Hospital is the main hospital for the area and has an Accident & Emergency Department. The following link will take you to the 'Find Us' page. http://www.southend.nhs.uk/other-information/find-us/
For non-emergency care, The NHS website http://www.nhs.uk/Service-Search/GP/LocationSearch/4 offers a search facility which will return a comprehensive listing of all local GP surgeries and health centres. There are more than 10 surgeries listed with a local Thorpe Bay/Southend postal address, with patient reviews also available.
If you are looking for other types of local healthcare professionals, try a visit to the Neighbourhood Professional website. This is a detailed site, sorting results by postcode, listing many professionals from dentists to opticians, reflexologists to physiotherapists. http://www.neighbourhoodprofessionals.co.uk/regions/ss/proff/healthcare.asp The results show Thorpe Bay and the wider area is well-served and offers an excellent choice of treatments and therapies.
Refuse and recycling
To find out which day your refuse and recycling will be collected, please visit the Southend Borough Council website. There is a specific area where by entering your street name, you can determine your collection day. http://apps.southend.gov.uk/whereilive/.
Shopping
The main shopping area in Thorpe Bay, named The Broadway, is a small parade of local shops and food outlets, surrounded by residential houses. For a wider choice or to access high street chains stores residents visit Southend town centre where there are two large shopping centres. Leigh-on-Sea is also close by for more independent outlets and a wide choice of restaurants and cafes.