Local area guide to the Eastwood area of Southend on Sea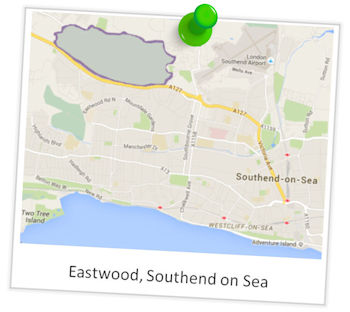 As a Lettings Agency in Southend, our clients often ask us about local amenities in popular neighbourhoods. Therefore, we've put together the following information which we hope will give you a feel for the popular area of Eastwood.
General Information and points of interest
Eastwood was originally a small town four miles to the west of Southend-On-Sea. Over time, as the area has developed, Eastwood has merged and become a suburb of Southend. Sometimes we hear residents refer to Eastwood Park, and this name is also used during local elections.
The original district of Eastwood covered a much more extensive area than it does today. At one time, it included parts of Rochford and Belfairs. The Earls of Warwick and Lord Rich were residents and it was part of the Royal hunting ground in The Great Forest of Essex. Eastwood was visited at least three times by Edward I, and the Knights Templar; a military organisation that owned many acres of Essex forest during the 13th century.
Today Eastwood is mainly residential with some local shops and a number of small businesses. There are also several car dealerships along the A127 arterial road. The area is home to many recreational and sports clubs for all ages, including a very lively cricket club, Woodside Bowling Club, the nearby Belfairs golf club, Eastwood Badminton Club and the popular Green Baize Snooker club. For those requiring a more sedentary lifestyle, or for older residents, there are also book clubs, knitting and crochet circles, art groups and lunch clubs. For young families there are several mother and baby sessions, including the popular Pinocchio Parents and Toddler group for children from birth up to school age. For those with a love fresh air and home grown produce there is also an allotment site in Eastwood run by Southend-On-Sea Borough Council.
Eastwood has its own small police station, although it is officially called a police office because it is only open to the public every Thursday for "Community Surgery". During these sessions, residents can raise any community issues they have with a Police Community Support Officer.
Transport
London is easily accessible by train from Eastwood. The nearest railway station is Southend Airport station on the Great Eastern Main Line with services to London Liverpool Street operated by Abellio Greater Anglia. The average Journey time is given as 53 minutes with trains running every 15 minutes and more frequently during the rush hour. Current timetables can be downloaded here
Eastwood has good bus links to both Southend and the surrounding areas, with popular services including Arriva Southend's route 9 service, and First Essex's route 20 service. For information about routes and fares click here or here.
There is also a limited stop coach service to and from Stansted Airport and regular services to Southend University Hospital. Additional information can be found here.
We're also lucky to have Southend Airport offering numerous routes within the UK and further afield into Europe. Airlines currently operating from Southend include Aer Lingus, EasyJet, FlyBe and Skyworks. Tour operators include First Choice and Thomson.
Education
Within Eastwood, admissions to both primary and secondary schools are managed by Essex County Council. Families with young children choosing to live in Eastwood have a choice of state infant and junior schools and day nurseries within the area, including Eastwood Primary school and Heycroft Primary School.
For older children requiring Secondary education, there is The Eastwood Academy, a mixed school with in the region of 850 pupils. The Eastwood Academy is home to the Eastwood Theatre, which puts on several theatrical productions throughout the year, as well as other events including a battle of the bands.
Essex retains a selective education policy and the Southend Boys and Girls Grammar schools are both popular choices with parents. Essex grammar school admissions are managed by the Consortium of Selective Schools in Essex (CSSE), Telephone: 01245 348257. The office is open 9am to 4.30pm Monday to Friday, term time only.
Healthcare
The Southend University Hospital is the main hospital for the area and has an Accident & Emergency Department. The following link will take you to the Find Us' page.
For non-emergency care, The NHS website offers a search facility which will return a comprehensive listing of all local GP surgeries and health centres.
However, the main surgeries for the area are:
Refuse and recycling
To find out which day your refuse and recycling will be collected, please visit the Rochford District Council website for full details. There is also a downloadable calendar which details of collections by type and date.
Shopping and entertainment
There are a variety of local shops and services in the Eastwood neighbourhood including several takeaway food outlets, pubs, hairdressers, small local grocery shops and banks. For a wider choice of entertainment such as cinemas and theatres, or to access high street chains stores residents visit Southend town centre where there are two large shopping centres. Leigh-on-Sea is also close by for more independent outlets and a wide choice of restaurants and cafes.