The Pace local area guide to Clifftown and the surrounding area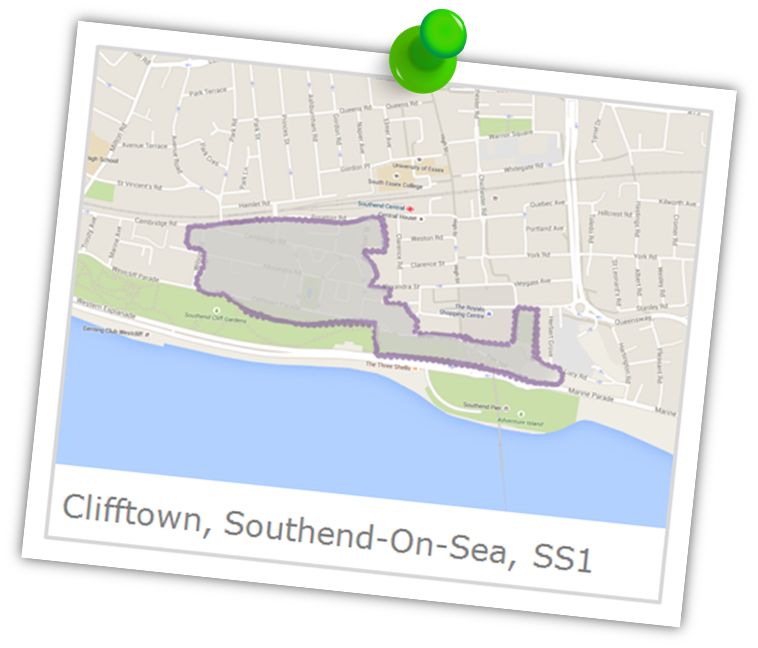 As a Lettings Agency in Southend clients often ask us about local amenities in the popular areas, such as Clifftown. We've put together the following information which we hope will give you a feel for life in one particular, popular conservation area, Clifftown.
General Information
The planned estate of Clifftown was built by railway entrepreneurs on the land between the railway line and the cliff-top, with the intention of capitalising on the arrival of the railway in Southend in 1856. The Georgian Royal Terrace and the Victorian Clifftown Estate mark the first major attempts to develop Southend as a seaside resort but also as a residential town. Its building styles and planned layout overlooking the estuary give the area its own charm and character.
This desirable residential neighbourhood which includes the impressive Prittlewell Square Gardens was classified as a conservation area in 1968. The dominant hill slope which traditionally links Old and New Southend, the High Street and the Pier, provides far-reaching and impressive views. The Park Inn Palace Hotel and the Pier Hill Lift are both popular destinations for visitors. The hotel holds particular historic relevance as during World War I it was converted into a hospital.
As they recovered from their injuries, the soldiers would gather on the balconies of the hotel to look out over the pier and seafront. They became something of an attraction, with dozens of people gathering underneath to pass tobacco, sweets, flowers and even buttons up to the soldiers.
Many local amenities can be found within the Clifftown area, including transport hubs, entertainment venues, visitor attractions, shops, restaurants and schools. One such venue is the Clifftown Theatre & Studios, located within an impressive former gothic church. The building was given a 'Conservation Award' via the Southend-on-Sea Borough Council Design Awards 2009.
Transport
Arriva runs a network of bus services that link Southend to other towns in the area. For Clifftown in particular, refer to Southend Central. For information about routes and fares visit http://www.arrivabus.co.uk/south-east/places/southend-on-sea/
In Essex, First also operates a network of over 70 bus services linking towns and villages across the county. There is also a limited stop coach service to and from Stansted Airport and regular services to Southend University Hospital. Additional information can be found at; http://firstgroup.com/ukbus/essex/
If you prefer train travel, Southend has two railway stations on the London Fenchurch Street to Shoeburyness line. Journey times are just over one hour with trains running every 15 minutes and more frequently during the rush hour. Train services are provided by the National Express Group train operating company c2c and current timetables can be downloaded here; http://www.c2c-online.co.uk/travel-information/timetables/
We're also lucky to have Southend Airport offering numerous routes within the UK and further afield into Europe. Airlines currently operating from Southend include Aer Lingus, EasyJet, FlyBe and Skyworks. Tour operators include First Choice and Thomson.
Education
In Essex, primary education is provided at either infant (4-7) and junior (7-11) schools or primary schools (4-11). Children attending an infant school, transfer to a junior or primary school at the end of Year 2.
Parents living in Essex must apply to Essex County Council for their preferred secondary schools. The Essex Common Application Form (CAF) is the only way you can apply for a secondary school place for your child. The CAF can both be completed and submitted online at www.essex.gov.uk/admissions or by completing a hard copy form available from Essex County Council Schools Admissions department.
Southend also retains a selective education policy. Essex and Southend grammar school admissions are managed by the Consortium of Selective Schools in Essex (CSSE), Telephone: 01245 348257. The office is open 9am to 4.30pm Monday to Friday, term time only.
Healthcare
The Southend University Hospital is the main hospital for the area and has an Accident & Emergency Department. The following link will take you to the 'Find Us' page. http://www.southend.nhs.uk/other-information/find-us/
For non-emergency care, The NHS website http://www.nhs.uk/Service-Search/GP/LocationSearch/4 offers a search facility which will return a comprehensive listing of all local GP surgeries and health centres.
Refuse and recycling
To find out which day your refuse and recycling will be collected, please visit the Southend Borough Council website. There is a specific area where by entering your street name, you can determine your collection day. http://apps.southend.gov.uk/whereilive/.
Shopping
Adjacent to Clifftown, Southend-on-Sea Town Centre is a popular shopping destination with a variety of individual independent stores and big name high street retailers. There is also a weekly outdoor market in Southend High Street which is held every Thursday. The Victoria Shopping Centre can be found on the High Street, with direct access to Southend Victoria train station. Formerly known as the Victoria Circus Shopping Centre, this is now under cover and is home to 40 stores. Alternatively, The Royals shopping centre is also centrally located on the High Street and boasts over 30 stores. Southend is also well-served by supermarkets and is home to the largest Waitrose in the UK.
The town has numerous pubs and restaurants, with an even wider choice available to those who venture into the neighbouring areas. Clubbing, live music, cinema and theatre are all available with a selection of reliable taxi services for travel after hours.